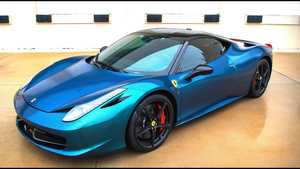 Everyone loves to cruise around in a colorful vehicle. Even if you don't like bright colors, you'll appreciate a shine or glimmer on the surface of your car. You can achieve your most desired color and luster on your car using pearl pigments.
Pearl pigments for painting cars are specially made to produce chromatic colors that have more color-depth. The idea is to produce a rich and stable shade of a particular color. Most people go for chameleon pearl pigments. These pearl pigments change color depending on the angle of light reflection.
Depending on the color-depth you want you can go for two-stage or three-stage pearl colors. Let's explore each one of them.
Two-Stage Pearl Colors
Two-stage pearl colors can be applied directly onto the surface of your car. Two-stage pearl colors are easy and quick to apply. The vehicle needs to be primed in one color before the pearl color is applied. If you decide to make the paint for yourself, ensure you get the mixing proportions right.
Two-stage colors are darkly shaded. They can cover the surface underneath them properly so that it does not affect their reflectiveness. Generally, dark shades are not reflective.
If you desire a stronger pearly effect and shimmer, three-stage pearl colors are the best option.
Three-Stage Pearl Colors
Three-stage pearl colors require a base-coat as well as a pearl mid-coat. White pearl pigment is only available in three-stage. Three-stage pigments allow you to prepare the surface so that you can achieve a stronger pearly effect. Applying three-stage pearl colors takes more time.
Three-stage mainly consists of lighter and more reflective colors. The work of the basecoat and the mid-coat is to ensure the surface of the car is not visible, and the pearl color is reflective enough. The reflectiveness of the pearl color is what provides the luster and the shimmer.
Your choice will depend on the level of shimmer you want. Three-stage pearl colors tend to be more durable than two-stage colors.
Pearl pigments give you more flexibility and variety as compared to metallic colors. If applied properly, a pearl pigment coat will last long. Most people go for pearl pigment paints because of their pearly and shimmering effect. The pearly paint is particularly beautiful when the sun is shining bright. They shine brightly when they reflect and refract the light rays falling on them.