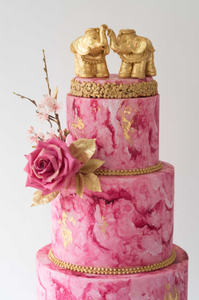 Your creativity as a baker is what sets you a spot above the rest. One way of distinguishing your pastries is by creatively decorating them. You can use food-grade pearl pigments to create visual effects on pastries.
Pearl pigments give you a lot of flexibility when it comes to how you can color your food. From a smooth dull sheen to a bright flash, there is no shade you can't get while coloring your pastries with pearl pigments.
Creating Visual Effects
Some pearl pigments change color depending on the angle of reflection. You can use such pigments to create an attractive pattern on your cakes or biscuits. Imagine having a cake that changes color as the sun moves across the sky.
Applying pearl pigments on cakes and other foods is a simple as painting. You might need some drawing skills if you want to create any specific patterns. Screens would come in handy as well. They make it easy to create shapes and patterns if you cannot draw.
Another simple way of coloring your cakes using pearl pigment is adding it to your icing sugar or cream. You can use pearl pigments instead of normal food color.
Pearl pigment colors are more visually appealing than ordinary food colors. Your pastries will look more colorful and shiner if you use pearl pigments.
Is it really safe to ingest pearl pigments?
A lot of people are often concerned about ingesting pearl pigments. All pearl pigments are not the same. Food-grade pearl pigments are those that have been certified as safe for human consumption. The pearl pigments used to make cosmetics are not the same ones you'll use to decorate your cake.
The production of food-grade pearl pigments follows strict guidelines to ensure they are completely safe. There are still a few unscrupulous business people that might try to pass off any pearl pigments as food-grade pearl pigments. Do your due diligence in ensuring you get the right pigments.
The visual appeal that pearl pigments add to your food is unbeaten. Visual appeal is the first thing that gets people interested in your food. Pearl pigments would do you a lot of good if you are trying to sell your pastries. Once you are able to get people's eyes interested, it's easy to get their taste buds interested as well. The use of food-grade pearl pigments is not limited to pastries only. You can use them on ice-cream, drinks, and many other snacks.